Even the most pristine of homes can suffer from pest issues from time to time. When that happens, there are two options that homeowners have; either attempt to DIY fix the pest problem or partner with a professional pest control company to effectively handle the pests for them! A pest control specialist can help ensure that pest control is safely managed and done right the first time.
There are a variety of common residential pest control issues that can affect people's homes and properties. Keep reading to determine the most common type of pest, as well as AIPM's proven pest elimination processes!
Common Residential Pests
Knowing the most common type of pests and signs of their activity can help any homeowner determine when their property has a pest issue. Take a close look at these common residential pests and be prepared to call a professional for pest control assistance when activity is spotted!
Rats/mice: Rodents can enter your home in search of shelter, warmth, and food. Once in, they can spread disease and chew through wires or important structural elements. They can even bite people living in the home when confronted, causing serious injury.
Flies: Not only just annoying to hear buzzing around your home, but flies can also spread disease and contaminate food sources. They also multiply at a rapid rate. Get rid of flies fast before they take over!
Spiders: While some spiders can be helpful pest-removers and lower the number of insects invading your home, they can still be alarming for any homeowner to see. Some species can even cause painful bites.
Ants: Even just one ant entering your home can lead a whole colony in. Scraps on the ground and holes in the wall can lure these pests into your house while searching for food. Put a stop to ants quick before they all come marching in!
Cockroaches: Every homeowner's least favorite creepy-crawly, cockroaches are hardy and unappealing. They prefer moist areas such as bathrooms and drain pipes. Some people can even develop a cockroach allergy after too much exposure!
The AIPM Proven Process
At AIPM, we take pest control seriously. With our multiple methods of pest control and years of industry experience, we tackle residential pests in an orderly and effective manner.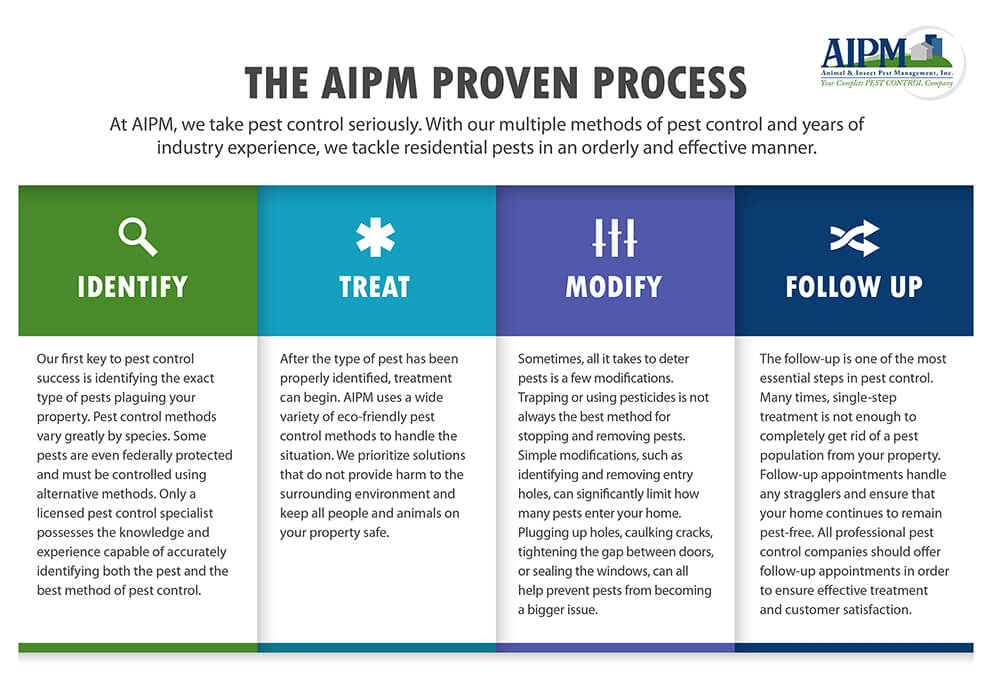 Identify: Our first key to pest control success is identifying the exact type of pests plaguing your property. Pest control methods vary greatly by species. Some pests are even federally protected and must be controlled using alternative methods. Only a licensed pest control specialist possesses the knowledge and experience capable of accurately identifying both the pest and the best method of pest control.+
Treat: After the type of pest has been properly identified, treatment can begin. AIPM uses a wide variety of eco-friendly pest control methods to handle the situation. We prioritize solutions that do not provide harm to the surrounding environment and keep all people and animals on your property safe.
Modify: Sometimes, all it takes to deter pests is a few modifications. Trapping or using pesticides is not always the best method for stopping and removing pests. Simple modifications, such as identifying and removing entry holes, can significantly limit how many pests enter your home. Plugging up holes, caulking cracks, tightening the gap between doors, or sealing the windows, can all help prevent pests from becoming a bigger issue.
Follow up: The follow-up is one of the most essential steps in pest control. Many times, single-step treatment is not enough to completely get rid of a pest population from your property. Follow-up appointments handle any stragglers and ensure that your home continues to remain pest-free. All professional pest control companies should offer follow-up appointments in order to ensure effective treatment and customer satisfaction.
What To Expect From AIPM
At AIPM, we are committed to providing high-quality, personalized service to all of our clients. Every member of our staff cares about providing customers with effective solutions and support throughout the entire pest control process. We care about you and the condition of your home like we would family.
Pest control with AIPM isn't a one-time treatment. We stick with you until the issues have been completely resolved and your home returned to excellent, pest-free condition.
For more about the range of services we provide, click here.