There's been a lot of talk lately about going green for pest control–but what exactly does it mean, and how can green pest control options help benefit everyone? The fact of the matter is, green pest control is both safe and effective. Green methods can solve pest problems while preserving the health of the surrounding ecosystem. Green pest control has been increasing in popularity over the last few years and is here to stay, and often is enforced through strict regulations. Keep reading to learn more about green methods of pest control and why it's the right fit for you and your property.
What are "Green Methods"
Green pest control methods come in a variety of different forms. In fact, there are countless different types of green pest control that can safely and effectively solve pest control issues. Many professional pest control specialists employ a combination of green methods to tackle the problem, all without relying on damaging chemical usage.
IPM (or integrated pest management) prioritizes green solutions and safely balances environmental health with reducing pest populations. IPM includes biological, cultural, chemical, and physical controls. Many of these pest control techniques
Why Choose Green Methods
Green methods of pest control are not only good for the environment, but they're also good for you too. That's because the overuse of chemicals and pesticides can harm humans by infecting the ground, water, and resources we use. Fruit and vegetables treated with pesticides can retain lingering traces of those potent chemicals. Too much exposure can cause significant harm. Even just pesticide lawn treatment can be dangerous to pets or small children, which is why warnings must always be posted before treatment begins.
Green methods of pest control, therefore, aim to find a balance between reducing pest populations and preserving the surrounding ecosystem. These green solutions can be just as effective as chemical pesticides, without any of the negative side effects.
Also, many states are currently enforcing stricter regulations regarding pesticide usage and the enforcement of green pest management. Going forward, more and more green pest control methods will be mandated, all across the country.
Effective Types of Green Pest Control
While there are countless different types of green pest control, some are more widely used than others. The green pest control methods listed below are proven to be effective, safe, and are highly useful against a range of different pest species.
Exclusion: Prevent pests from entering by sealing up holes. This green method is humane, holistic, and healthy
Behavior Modifications: Pests are repelled using natural or man-made stimuli. These can include unpleasant noises, pheromones, or other disturbances that make it difficult for pests to comfortably live on your property.
Habitat Modification: By physically changing environmental factors, pests can be effectively repelled without pesticide usage. Modifications that limit access to food or shelter can send the pests running. Some examples include adding barriers, planting pest-repellent foliage, or promoting natural pest predator populations.
CO2 Method: CO2 fumigation uses oxygen deprivation to reduce pest populations. This method can kill invasive burrowing pest populations without the use of damaging pesticides.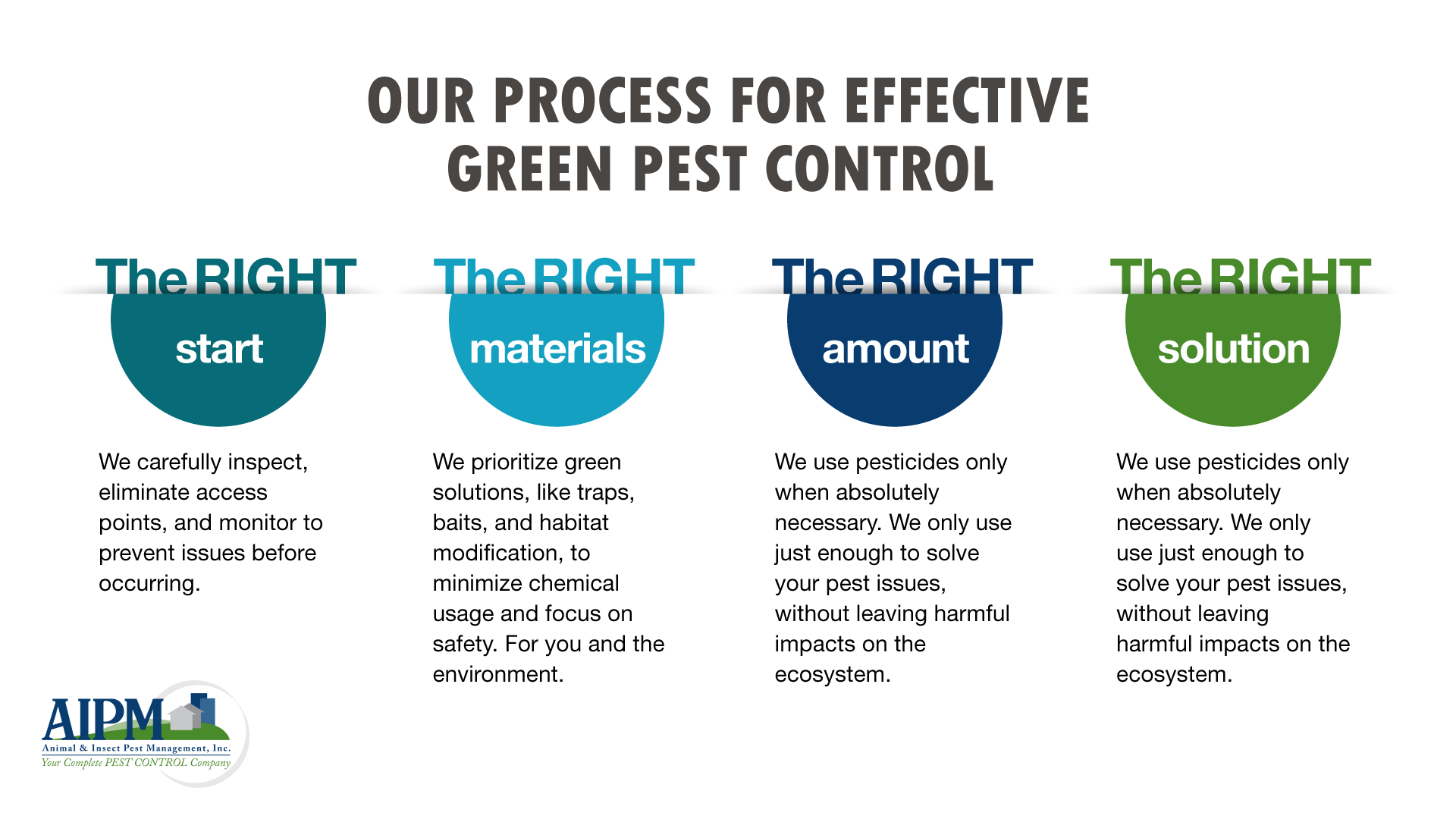 The RIGHT start: We carefully inspect, eliminate access points, and monitor to prevent issues before occurring.
The RIGHT materials: We prioritize green solutions, like traps, baits, and habitat modification, to minimize chemical usage and focus on safety. For you and the environment.
The RIGHT amount: We use pesticides only when absolutely necessary. We only use just enough to solve your pest issues, without leaving harmful impacts on the ecosystem.
The RIGHT solution: We provide comprehensive pest control that's focused on not only removing the pests but also ensuring the problem doesn't happen again in the future.
Pros and Cons of Green Pest Control
Green pest control is safe, humane, and healthier for the environment. Green methods can be highly beneficial and effective in preventing pest infestations and reducing pest populations. Many green methods, such as habitat modification and sealing entry holes, can even stop problems before they start.
However, occasionally green pest control alone is not enough. There are times when chemical forms of pest control are needed to completely solve a pest problem. If pesticides are ever required, it is absolutely essential to work with a professional pest control company. This ensures that only the necessary amount of chemicals are safely –and effectively–applied.
---
Using green solutions for pest control is the best way to both solve the pest problem and keep the environment safe. At AIPM, we've developed our effective green pest control methods over years of careful study, all to bring you better results with less product.
Request More Info today and let Animal & Insect Pest Management develop a plan to meet your specific needs.